1) Pepe
A distinction must be drawn between "football pantomime villains" and real-life villains associated with football, such as Uday Hussein, Robert Maxwell or Lee Hughes, men who have committed misdeeds too grave for any enjoyment to be had from contemplating them.
What we are dealing with here, then, is football folks whose actions on or around the pitch have been so infuriating or ignoble that they have inspired a loathing that is almost entertaining. José Mourinho, for instance, could be considered an incorrigible berk, but one who most people still listen to, even if only to find more evidence that he is an incorrigible berk.
There is a similar soiled glee to be derived from watching the likes of Arjen Robben or Ashley Young, players whose skills are often overshadowed by the dastardliness of their diving. These players would be far less unpopular in Britain if they just punched opponents. Because in these parts simulation is worse than honest violence. There is a blue-collar integrity to a fist in the face; but diving is white-collar devilment, the wicked deceit of a bureaucrat. It is not just breaking the rules, it is betraying the social contract that underpins the whole enterprise.
When you merge these two strains of villainy, you get a mug-shot that looks a lot like the Real Madrid pest, Pepe. To watch the Portuguese defender is to gain an insight into what it must be like to live with the unfortunate condition of coprolalia. It is almost impossible to see him in action and not swear.
Look, here he is engaging in play-acting so over-the-top that he accidentally boots one of his team-mates. And here he is nudging an opponent and then propelling himself backwards as if collared by a grizzly bear. And here he is pushing over a player and repeatedly trying to kick him up the arse, Bishop Brennan-style. And here is a four-minute extract from his life-long campaign to turn football into a cringe-inducing sitcom.
2) Danny Tiatto
"As far as I'm concerned, Danny Tiatto doesn't exist." So said the then-Manchester City manager Kevin Keegan in September 2002 but the thing is, Danny Tiatto did exist. There are former players with marks all over their body to prove it. Tiatto was the sort of guy who liked to make an impression. A left-sided marauder who was not entirely devoid of skill, his style and demeanour constituted a non-verbal threat that seemingly warned: "I'm going to get the ball now and if you try to get it too, I cannot be held responsible for my actions".
City fans loved his passion – they even voted him player of the year in 2001 – everyone else booed him and hoped they never bumped into him in a pub.
The moment when Keegan lost faith in him was in September 2002. City were trailing 2-1 to Blackburn and looking listless, so Keegan sent on Tiatto and Shaun Goater to chase an equaliser. Six minutes later Tiatto was trudging back off again, having been red carded for a preposterous foul on David Thompson. "If one of my players was hit by that tackle, I would be absolutely livid, I was absolutely disgusted with it," stormed Keegan afterwards "It was unprofessional and stupid."
Earlier that year Keegan had been forced to restrain Tiatto after the Australian kicked over a rack of water bottles and looked intent on igniting a kinghell ruckus in protest at being red carded in the 12th-minute of a City-Norwich match for a sly shove to the face of Steen Nedergaard, a gesture he was to reprise many years later when playing for Brisbane Roar against Central Coast.
In fairness to Tiatto, he was not sent off in every match – sometimes he was only yellow carded. And sometimes the referee didn't spot any foul by him at all so a disciplinary panel would launch an investigation. That's what happened after the Quensland Roar-Adelaide United match of 2007, with the result that Tiatto was given a two-match ban for a stealthy stamp on Richie Alagich.
3) Norbert Meier
The former France manager Raymond Domenech liked to be the centre of attention. During his playing days, when he was loathed by opposition supporters because of a penchant for wild tackling, he always made a point of doing his pre-match warm-up right in front of those fans so as to bask in their boos.
During his years in charge of the national team he seemed to used press conferences for a similar purpose, to deflect attention from his players onto himself not so much as to alleviate pressure on them, but because he enjoyed being the story. This was perhaps his thinking during a television interview moments after France's sorry exit from Euro 2008, when he dismissed questions about his team's failings and instead took the opportunity to propose marriage to his girlfriend. A nation wailed in exasperation. Just another ill-judged performance from a man whose main hobby outside football is, of course, theatre acting.
However, Domenech would have to go some to be a worse manager thespian than the former Duisburg boss Norbert Meier, whose showmanship during a 2005 Bundesliga game against Cologne provoked such fury that his career was seriously damaged.
A former West Germany international, Meier was considered a rising managerial force after guiding Duisburg to promotion to the country's top-flight until he lost the run of himself against Cologne. As the Cologne midfielder Albert Streit hurried to retrieve a ball that had gone over the sidelines, the player and the manager angrily squared up to each other. Meier then elevated that humdrum episode to the status of legendary farce by aiming a loaf at the player … and hurling himself to the ground as if he had been assaulted, leaving both clowns writhing on the grass.
Despite having given the impression that he needed urgent hospitalisation, Meier turned up at the post-match press conference, where journalists, having now seen numerous replays, interrogated him about his shameless capering. "We clashed quite severely … I though I was badly wounded, it was a perfectly normal reaction," insisted Meier. Unfortunately for Meier, his attempt to brazen out the storm did not succeed: the German FA fined him and banned him for three months, then Duisburg sacked him. He is now in charge of Newcastle United.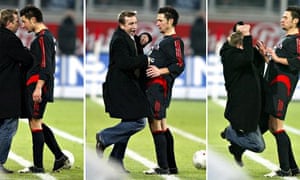 4) Roberto Rojas
West Germany's Harald Schumacher ensured he will always be mentioned in any conversation about villainous goalkeepers by knocking Patrick Battison unconscious in the 1982 World Cup semi-final, a wild attack for which he did not even incur a freekick. To compound that injustice, Schumacher finished the game as a hero thanks to saves in the shootout. But Chile's Roberto 'The Condor' Rojas enjoyed no such glory. This was a goalkeeper who paid a heavy price for his chicanery.
Back in 1989, Chile went to Rio de Janeiro for a World Cup qualifier that they had to win to reach the finals the following year. They were heading for a defeat until the 70th minute when, with Brazil leading 1-0, a firework was hurled from the crowd and landed near Rojas, who hurled himself to the ground and contorted in agony as blood streamed from his forehead. The stricken keeper was carried off the pitch on a stretcher and his seemingly shocked team-mates refused to play on, claiming they feared for their safety. The match was abandoned.
The Chilean team were welcomed back home as triumphant kings, with the country seemingly convinced that Fifa would award Chile victory and a place in the finals. To emphasise the depth of the wrong that had to be righted, Chilean fans stoned the Brazilian embassy in Santiago.
Back in Brazil, folks were suspicious. Replays suggested the firework had not hit Rojas and, what's more, his wound did not seem consistent with the allegation, as the cut was curiously deep and there were no burn marks. Rojas, who played his club football in Sao Paulo, came under intense pressure to explain. Eventually, he could bear it no more. He confessed: the whole thing was a scam – the firework had not touched him and the wound had been inflicted by Chile's captain, Juan Astengo, who, while pretending to check on Rojas' well-being, slashed his face with a razor blade hidden in the goalkeeper's glove.
Suddenly, Rojas was a public enemy both in Brazil and his homeland and for a while he had to take his family into hiding. Fifa came down hard on his side: Brazil were awarded a 2-0 win and Rojas, Astenga, Chile coach Orlando Aravena and team doctor Daniel Rodriguez were banned for life, while the national team was eliminated from the 1990 World Cup and forbidden from taking part in the next one after that.
The Condor's career seemed in ruins but, amazingly, Sao Paulo did not turn their back on him. Instead the club employed him as a goalkeeping coach and later promoted him to manager. Back in Chile, the anger eventually gave way to guilty amusement, and the expression "hacer un condorito" was invented to describe making a spectacular miscalculation.
The lifetime ban was perceived as unnecessarily severe sanction on a decent man who made one monumental error of judgement. Under popular pressure, Fifa lifted Rojas' ban in 2001 so that, at the age of 43, he could feature in Ivan Zamorano's testimonial. When he appeared as a second-half substitute, the rapturous greeting from the crowd confirmed his redemption. Rojas could not contain his tears. "It means the world to me to be forgiven by my own people," he said afterwards.
5) Leeds United
Once upon there was a little city where cricket and rugby ruled and no one got too excited about the football team. Then along came an innovative manager who, without the aid of petro-millions or a megalomaniac tycoon, nurtured a squad of young players and turned them into the best team in the country and a swashbuckling force in Europe. And they were hated ever after.
Leeds' rise in the 1960s is rarely celebrated by anyone other than Leeds' fans: most other supporters tend to see it as a phenomenon akin to an oil spill or an outbreak of smallpox. 'Dirty Leeds' are the most unloved of England's great teams, even though there was plenty to appeal to fans of the underdog, not least the frequency with which Leeds were thwarted by bizarre refereeing decisions or outright corruption. Yet they are vilified because there is a notion that what they did achieve, they did through intimidation and thuggery or, as Brian Clough famously put it: "As far as I'm concerned you can throw all those medals you've won in the bin, because you won them all by cheating." Leeds never denied that they could be brutal but claimed that they learned to dish it out only in response to opponents who thought they could bully them because they were young and small.
"The 60s were a hard time and as a little guy and a creative player, I tended to get singled out so I quickly learned that I had to stick up for myself," explained the artful and vengeful John Giles to the Guardian a while back. There is some truth in this and, indeed, match statistics from that time show that Leeds were often more sinned against the sinning, but it was they who are remembered as the wrongdoers.
In their book The Unforgiven, Rob Bagchi and Paul Rogerson suggest that this is partially because of the attitude with which Leeds players imposed themselves on matches rather than the foul play itself. "It was the way they carried themselves. United never seemed to care about their reputation, they never retreated when the opposition attempted to turn the tables and they knew just how far to wind up the opposition without winding up the referee. It didn't matter if the match statistics exonerated them; they were such perfect villains … The team that a Sheffield United programme once called a 'travesty for soccer' was pilloried on a truly national scale." And they still are.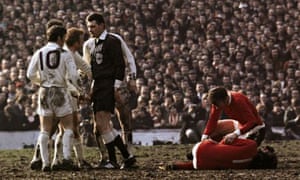 6) Michael Owen
Michael Owen has 2.67m Twitter followers and it seems a significant portion of that mob only track him to spit abuse or ridicule. The unpopularity of England's fourth-highest goalscorer of all time is a rum thing. His has been a slow but steep decline from the heights of 1998, when he captured the nation's heart by dashing through Argentina's defence and scoring with the thrilling swagger of Zorro slashing a Z onto his rich victim's gormless face. A few months later Owen was voted BBC Sports Personality of the Year and that fact now seems especially incongruous when set against the outpouring of scorn that tends to accompany his current endeavours as a commentator, which are routinely denounced as mind-numbingly inane by all those exciting people on the internet. Lots of people who speak or write in public are intensely boring – believe it, Guardian readers – but most are not as disliked as Owen seems to be. Why could that be?
Firstly, Owen's problem is that his getting paid to emit banality corresponds to the perception that much of his playing career saw him lavishly rewarded for not doing much. But again, lots of modern players are considered to have had rewards they did not deserve, yet they do not attract as much disapproval and many do not have as valid explanations for their dwindling powers as Owen, who was undeniably unfortunate with injuries. So there must be more to it. Especially as Owen is not even especially fondly remembered at the one club where he achieved plenty, unlike, say, Steve McManaman, who also left Liverpool for Real Madrid or Robbie Fowler, who remains venerated at Anfield even though his commitment was more questionable than Owen's and he has amassed more wealth.
Perhaps there was something in the way Owen played even when he was his prime that stimulated a sort of resentment that was stored up to be spewed when he stopped scoring? After all, he was not a special trickster, thinker or tackler, his outstanding asset was his speed, the most begrudged of gifts. Fast players are perceived to have it too easy. They are not immediately considered to have got where they are by trying harder than others, rather they are thought to have been given a natural head start. No fair. And fast players who, on top of that, have been given clean-cut good lucks and a seemingly nice background, well, they are even harder to warm to. Theo Walcott might agree.
It seems that what fans want from players of this ilk, aside from regular match-winning performances, is some hint of gratitude, self-deprecation or charm. Not smugness. Not this. Definitely not this. Once you've exposed an inclination to that sort of carry-on, it's difficult to alter perceptions.
When Owen tweeted a photo of his trophy cabinet a while ago after being branded an underachiever, he was lambasted as boastful; in fact, as far as many people seem to be concerned, his every utterance or deed must be seen merely as the same sort of contemptible wheeze as the glossy brochure of himself that he commissioned in 2009 when he was trying to convince another club to sign him so that he could (a) continue playing the game he loved and at which he could still be pretty useful or (b) earn more lucre to buy more horses.