James McClean fined by Stoke over balaclava 'history lesson' post | Football
James McClean has been fined two weeks' wages by Stoke City after his club took a dim view of an "inappropriate social media post" on Instagram.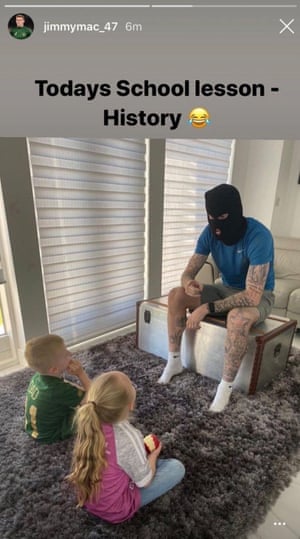 The Republic of Ireland midfielder, who was born in Derry, hastily removed a post published on Thursday which showed him wearing a black balaclava while teaching his children what he described as a "history lesson". McClean has apologised and agreed to delete his Instagram media account, the Championship club have confirmed.
"Stoke City can confirm that, following an internal disciplinary review, disciplinary action has been taken against James McClean for an inappropriate social media post," read a club statement on Friday. "McClean has been fined two weeks' wages by the club and has also agreed to delete his Instagram account. The player has expressed contrition and recognises that the post was ill-advised and offensive."
In the statement McClean apologised for his actions, which triggered a backlash owing to the paramilitary connotations a balaclava carries in relation to the Irish Republican Army.
McClean said: "I never wanted to cause any offence but I now realise that I did so and for that I apologise unreservedly. I have spoken to the club and will be deleting my Instagram account."
This year McClean was the subject of alleged sectarian chanting in the lead-up to Remembrance Sunday. McClean has repeatedly been targeted by supporters owing to his decision not to wear a poppy on his shirt in respect for those who died in Derry on Bloody Sunday in 1972, a matter he has been vocal on.
Of his decision in 2014, he said: "I am very proud of where I come from and I just cannot do something that I believe is wrong. In life, if you're a man, you should stand up for what you believe in. I know you may not agree with my feelings but I hope very much that you understand my reasons."