The Breakdown | Players must have the final say on when it is safe to resume | Sport
5 min read
What comes first, your job or your health? It is a question many are asking as lockdown restrictions gradually start to ease with the aim of rekindling the economy, rugby players among them.
Premiership Rugby is hoping to resume its season in July, a date that will be considered on Thursday by the professional game board after the government's approval of contact training taking place. If the sport does kick off, it will look markedly different with World Rugby rolling out a set of optional rule changes, limiting face-to-face contact to help minimise the risk of one player passing on Covid-19 to another.
Matches would be played without spectators at one or two venues and the motive for finishing the campaign, rather than declaring it over, as in France where the government dictates to sport, is financial: playing the season to its conclusion would avert the danger of having to pay rebates to broadcasters and sponsors and so pull some clubs, perhaps the majority, from the brink.
Players will have to weigh up the risks to their health posed by training and playing, which World Rugby's medical experts acknowledge there are, or to their contracts. Even Montpellier's free-spending owner, Mohed Altrad, said this week that now was not the time to be thinking about signings.
The assumption is that a return would be welcomed by the broadcasters, whose menu for the last two months has largely been reheated, and supporters, who have been starved of action and would relish a return of the sport to the screen, even if with the safety provisions it became like an egg without the yolk.
Perhaps not. One Bath season-ticket holder wrote in an email: "I do not understand why restarting or finishing the season is even being discussed. Like all the other supporters I have spoken to, I do not want any of the players and staff to be put at risk. The season is over. Go away, keep fit and come back for a slightly later pre-season. No team is crowned champions. And forget the European competitions for a year. I, and many other fans, have no interest in television games behind closed doors."
The fear that this opinion is not the exception is spooking broadcasters. Sky in New Zealand said this week that a return to action there would not necessarily mean funding remained at the level it was at before. Its financial assumptions for the next year were based on existing sports contracts and it warned investors that it doubted whether some sports would remain financially viable even with television backing.
"It remains unclear when a full schedule of live sport will resume and the impact of what any modified format on resumption might have on the appeal or value of that content to Sky and its current or potential subscribers," it said. A semi-skimmed version would be less appetising and may have to come at a discount, meaning players would face the double jeopardy of both their health and their jobs being at risk.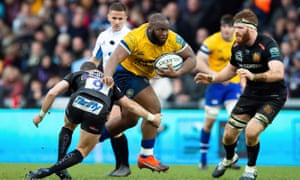 The Ireland Rugby Football Union chief executive, Philip Browne, said this week that unions were at risk of going under unless rugby returned to action. "All unions are in difficulty. There's not a single one that I'm aware of that's not looking at a singular financial impact as a result of this crisis. For some, including the IRFU, it's potentially existential. If contact sport is not going to be in a position to restart, well then it is existential."
Premiership clubs are ready to resume full training when given the go-ahead. They have had time to put in place safety measures and when games are played again, World Rugby's medical panel has recommended reset scrums be banned along with upright tackling, spitting and players going into a huddle. Kit would need to be changed at the interval and players should wash their hands just before taking the field for either half, with match balls cleaned and replaced regularly.
World Rugby's chief medical officer, Martin Raftery, believes rugby players are less likely to transmit Covid-19 than players in sports such as basketball if his panel's recommendations are adopted. "If you tackle someone around the legs and you are not near any droplets, then you are not at risk," he said. "The perception that contact sport is more dangerous may not be exactly right because it is about proximity to an affected person."
Whatever, it is players who will be taking whatever risk there is, which will be less in Australia and New Zealand than it will be in Europe. Ultimately, a decision about play resuming should be down to them. They are usually the last to be consulted about changes, but this is a period when centralised control is coming under question and they should not be regarded like troops in the trenches. The greater risk to BAME people is also material.
Science can point the way, but not always in the right direction. It was not the Welsh government who called off the international between Wales and Scotland in Cardiff one day before it was due to be played and a concert by the Stereophonics in the city went ahead on the Saturday night, nine days before the lockdown restrictions were imposed. Herd immunity was the theory then.
If players return reluctantly, it will be reflected in their performances, but as clubs and unions teeter on the brink, they know what is expected of them. They are inured to the risk of injury in an impact sport, but not of bringing something back to their families. They will need more than assurances and, in Europe, surely the time to return will be when the infection rate is as low as it is now in Australia and New Zealand, the easing of restrictions not prompting a second wave.
• This is an extract from our weekly rugby union email, the Breakdown. To subscribe, just visit this page and follow the instructions.